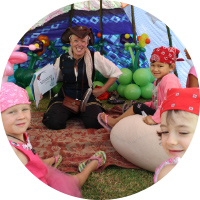 ENTERTAINMENT
Face Painting, Balloon twisting, characters and more!
WORKSHOPS IN ART AND SCIENCE
Shopping Centre, Holiday Programme, Parties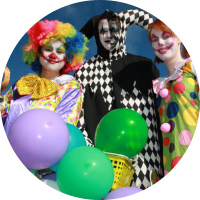 FESTIVALS, STAFF PARTIES, CORPORATE AND COMMUNITY EVENTS
PROFESSIONAL DEVELOPMENT WORKSHOPS
Face Painting, Art and Science
Let Magical Masquerade sprinkle some magic on your special celebration, promotional day or event.  Take the stress out of your party and event planning for events large and small.  With a lifetime of experience we will plan your party or event down to the finest detail.
Our talented team can be seen in action at many events including Auckland Arts Festival Family day, WOMAD, Thomas Day Out in Glenbrook and 'Elvis in the Gardens'. Our corporate clients include TVNZ, BECA, Pumpkin Patch, PORSE and LJ Hooker.
I absolutely loved the experience that Magical Masquerade provided. The whole process brought my family closer together as my baby jiggled during the belly painting session. And as we posed for photos afterwards we now have a keepsake momento of our special artwork. It was truly a work of art I loved it!
We had an awesome experience hiring Young At Art for my daughter's birthday party where the kids all did a collage on canvas. It was such a good way to keep the kids entertained for an hour to 1 1/2 hrs and most importantly, they all loved it and got to bring their creations home with them after to put in their wall! So definitely a win-win. Highly recommended if you're looking for a party or even their art classes during school term and holidays! Our kids have done both and always look forward to it.
Magical Masquerade were a vital part of Auckland Arts Festival Family Day.  Their beautiful face paints were eagerly sought after by children and adults alike and they did gorgeous, individual work really quickly!  They are an asset to any occasion and great to deal with!